---
Ein halbes Jahrhundert nach ihrer großen Zeit ist das musikalische Erbe der Beatles unübersichtlich geworden, es droht auseinander zu brechen und damit zu verschwinden. Anbei ein persönlicher Vorschlag, wie man das kostbare Erbe für die Ewigkeit retten könnte.

Half a century after their great time the musical legacy of the Beatles becomes confusing, it threatens to break apart and to disappear. Enclosed a personal proposal on how to save their precious heritage for eternity.
---
Meine Wahrnehmung der Beatles ist sicher anders als die der meisten Menschen. Der Hauptgrund liegt darin, dass ich zwar fast mein ganzes Leben (ab dem 12.Lebensjahr) eine Gitarre hatte und sie auch oft spielte, aber früher wenig Möglichkeiten zum Musikhören hatte. Speziell in der Beatles Zeit 1963 – 1969 habe ich unter sehr schwierigen Umständen studiert und eine Familie gegründet (mit zwei Kindern).
Keine der Beatles LPs besaß ich selbst zur Zeit ihres Erscheinens, einige habe ich später nachgekauft. Die Werke der Beatles habe ich nur bei Freunden gehört und ich war begeistert davon. Aber ich hatte alle Noten: Beatles Complete in mehreren Bänden.
1. Please Please Me (1963)
2. With the Beatles (1963)
3. A Hard Day's Night (1964)
4. Beatles for Sale (1964)
5. Help! (1965)
6. Rubber Soul (1965)
7. Revolver (1966)
8. Sgt. Pepper's Lonely Hearts Club Band (1967)
9. Magical Mystery Tour (1967)
10. The Beatles ("The White Album", 1968)
11. Yellow Submarine (1969)
12. Abbey Road (1969)
13. Let It Be (1970)
Richtig widmen konnte ich mich der Beatles Musik erst mit 50 Jahren ab 1994. Dann hatte ich das meiste gekauft, was es von den Beatles als CD gab. Rückblickend war dies vielleicht zu früh, denn die ersten CDs waren in meinen Augen schlecht und total überteuert. Die Eigenschaften und Möglichkeiten von CDs hat man offenbar nicht verstanden oder verstehen wollen.
Den Beatles selbst will ich keine Vorwürfe machen. Sie hatten sich längst aufgelöst. John Lennon hat nie seine Musik auf einer CD gehört. Er ist schon 1980 gestorben und CDs gab es erst ab 1983.
Die erste wirklich gute Beatles CD war 1 (ONE) aus dem Jahre 2000. ONE hat gezeigt, dass man es besser machen kann. Und dies einige Jahrzehnte nach den Originalaufnahmen. Wer ein Souvenir an die Beatles erwerben will, die ONE ist dafür gut geeignet.
Meine kleine, eigene, private Musiksammlung ist ähnlich entstanden. Sie besteht zusätzlich nur aus 5 CDs mit den Farben RED, PINK, BLUE, WHITE und GREEN. Ich füge alle Playlists und die Originalquellen unten an. Vielleicht nutzt jemand von den Rechteinhabern diese Vorschläge. Es würde mich freuen. Ich selbst engagiere mich nicht mehr.
Mein Bestreben war, die Werke der Beatles so zu präsentieren, dass man sie noch sehr lange genießen kann. Eine Beatles Final Edition für die Ewigkeit war mein Ziel. Dazu musste man auch eine Form finden, dass man sie auch preiswert erstehen kann und seinerzeit waren es eben CDs mit mehr als 70 Minuten Länge.
Wie die meisten anderen Beiträge auf diesem Blog soll auch dies nur eine Anregung sein. Zur Klarstellung, ich verkaufe keine Musik, ich verleihe sie auch nicht. Also Anfragen dazu kann man sich sparen.
The Beatles Final Edition auf 6 CDs
Achtung, meine Playlists unterscheiden sich manchmal etwas von der Original CDs, auch wenn die Bezeichnungen ähnlich aussehen!
BEATLES ONE - Die Top Hits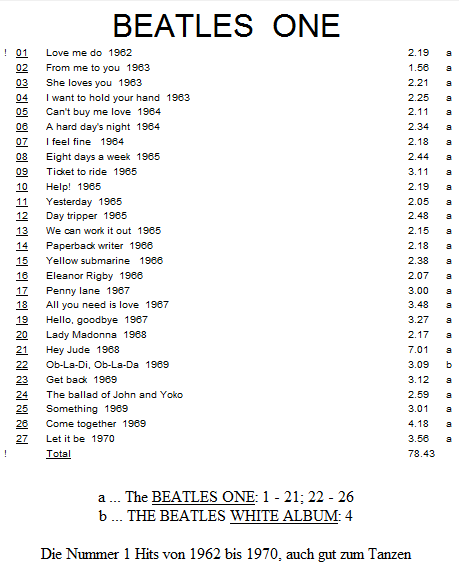 BEATLES RED - Die frühe Phase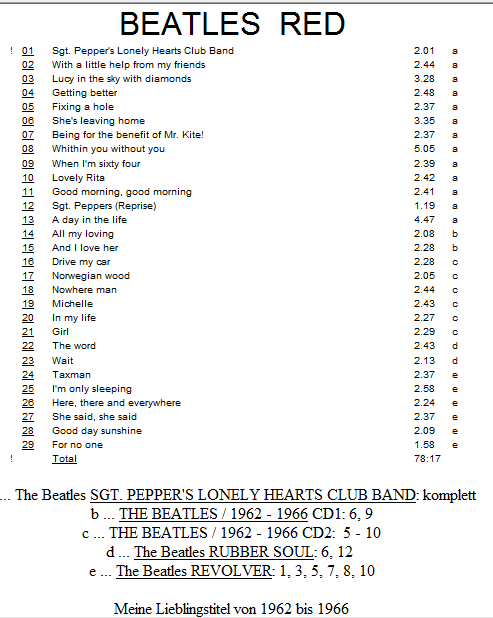 BEATLES PINK - Die mittlere Phase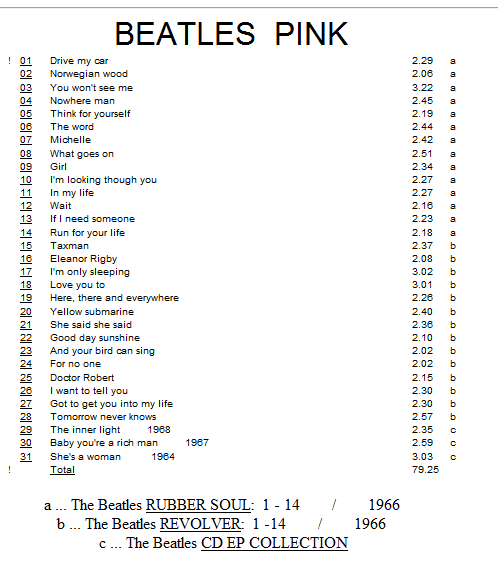 BEATLES BLUE - Die späte Phase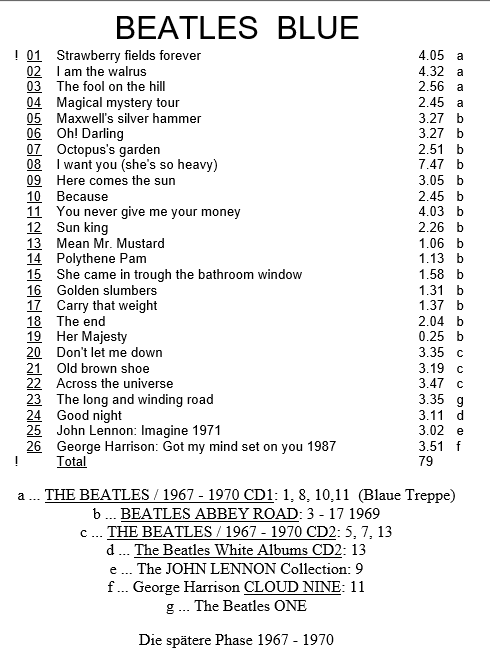 BEATLES WHITE - Das weiße Album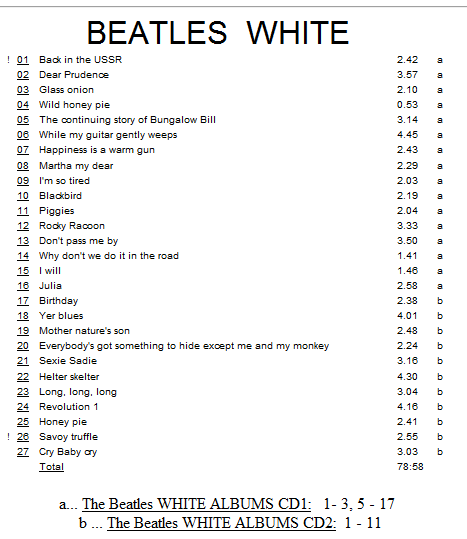 BEATLES GREEN - Der Beginn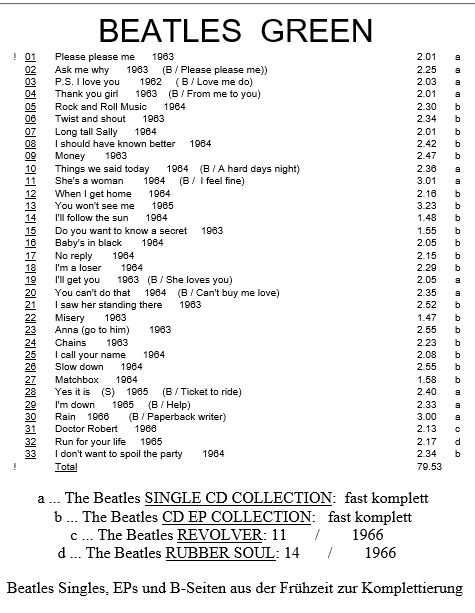 Also so ähnlich könnte eine echte Neuauflage der Beatles Musik aussehen. Insgesamt nur 6 CDs, mit weniger als 480 Minuten (oder 8 Stunden) Spieldauer. Und trotzdem ist alles drauf, was mir von den Fab Four gefallen hat. Ja "Revolution 9" fehlt, mit Absicht. Ich hab es immer übersprungen. Und einiges nach dem Weißen Album (1968) habe ich auch ignoriert.
Warum das CD Format?
Mir ist klar, dass die Zeit der CDs vorbei ist. Sogar die Menschen sind inzwischen gestorben, die sie mir seinerzeit verkauft haben. Ich selbst habe inzwischen fast das Durchschnittslebensalter der Männer erreicht. Und so wahrscheinlich damit auch alle anderen Beatles Fans. In den Sendern, die ich höre, werden nur noch selten Beatles Titel gespielt. Die Beatles Zeit ist wahrscheinlich 2018 auch vorbei.
Ich kann es nicht überprüfen, aber ich bin mir ziemlich sicher, in den großen Streaming Diensten sind die meisten ihrer Titel vorhanden. Aber deren Playlists sind zu flexibel. Es war ein Kennzeichen der Beatles LPs, dass sie nicht nur aus einzelnen Titeln bestanden haben, sondern die Titel nahtlos ineinander übergegangen sind und dann die Reihenfolge extrem wichtig war. Sie waren aus einem Guss. Und die Hüllen waren wahre Kunstwerke. Sie aber werden sicher verloren gehen. Was hoffentlich für alle Zeiten bleiben wird, das sind die Noten der Northern Songs von John Lennon und Paul McCartney.
Ein anderes Beispiel, wie man die Erinnerung am Leben erhalten kann, ist dieses Interview mit Paul 2018
Zusammenfassung
Das Phänomen Beatles wird leider weiterhin kommerziell ausgepresst werden. Die unzähligen Remasters werden einfach meist nur lauter. Es wäre schlicht schade, wenn dies weiterhin passiert!
Wäre es nicht viel besser, ein Finales Paket ihrer Musik (The Beatles Final Edition) zu schaffen, das sich jeder leisten kann, das man gerne immer wieder spielt und sich an ihren komplexen Arrangements, dem kunstvollen Spiel der Instrumente zu erfreuen und den erfrischenden, zuerst fröhlichen, später nachdenklichen Botschaften und ihrem typischen Gesang zu lauschen? Einen Versuch meinerseits war es wert, denke ich.
---
---
My perception of the Beatles is certainly different from that of most people. The main reason is that - although I had a guitar almost all my life and played it often - I had little opportunity to listen to music in the past. Especially in the Beatles period 1963 - 1969 I studied under very difficult circumstances and founded a family (with two children).
None of the Beatles LPs I owned myself at the time of their releases, some I bought later. I only heard the Beatles' works with friends and I was enthusiastic about them. But I had all the notes. Beatles Complete in several volumes.
1. Please Please Me (1963)
2. With the Beatles (1963)
3. A Hard Day's Night (1964)
4. Beatles for Sale (1964)
5. Help! (1965)
6. Rubber Soul (1965)
7. Revolver (1966)
8. Sgt. Pepper's Lonely Hearts Club Band (1967)
9. Magical Mystery Tour (1967)
10. The Beatles ("The White Album", 1968)
11. Yellow Submarine (1969)
12. Abbey Road (1969)
13. Let It Be (1970)
I couldn't really devote myself to the Beatles music until I was 50 years old (in 1994). Then I bought most of what the Beatles had on CD. Looking back this was perhaps too early, because the first CDs were bad in my eyes and totally overpriced. The characteristics and possibilities of CDs were obviously not understood or neglected.
I don't want to reproach the Beatles themselves. They had dissolved long ago. John Lennon never heard his music on a CD. He died in 1980 and CDs were only available from 1983.
The first really good Beatles CD was 1 (ONE) from the year 2000. ONE has shown that you can do better. And this a few decades after the original recordings. Who wants to buy a souvenir to the Beatles, the ONE is well suited for it.
My small, own, private music collection was created in a similar way. It additionally consists of only 5 CDs with the colors RED, PINK, BLUE, WHITE and GREEN. I add all playlists and the original sources below. Maybe someone from the copyright owners will use these suggestions. I would be happy. I don't get involved myself anymore.
My ambition was to present the Beatles' works in such a way that you can enjoy them for a long time to come. A Beatles Final Edition for eternity was my goal. You also had to find a way to buy it cheaply and at that time it was CDs with more than 70 minutes in length.
Like most of the other posts on this blog, this is just a suggestion. For clarification, I don't sell music, I don't lend it either. So you can save yourself these inquiries.
The Beatles Final Edition on 6 CDs
Attention, my playlists sometimes differ a bit from the original CDs, even if the names look similar!
BEATLES ONE - Die Top Hits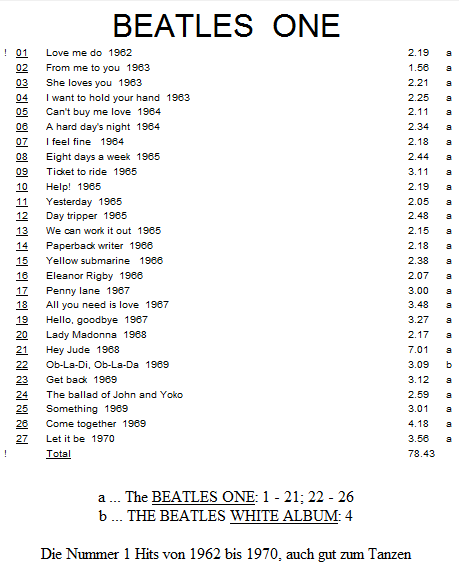 BEATLES RED - The early phase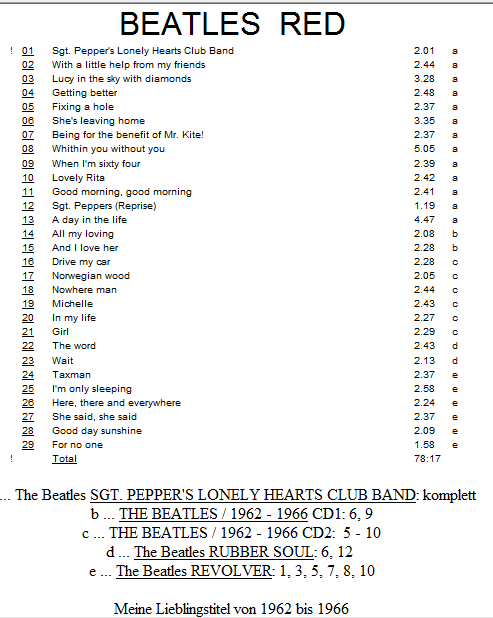 BEATLES PINK - The middle phase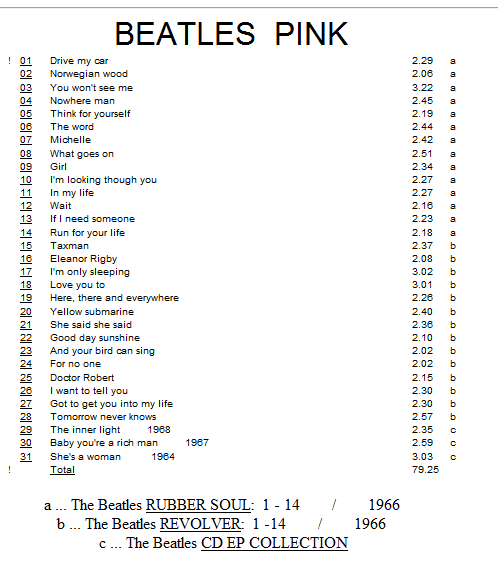 BEATLES BLUE - The Late Phase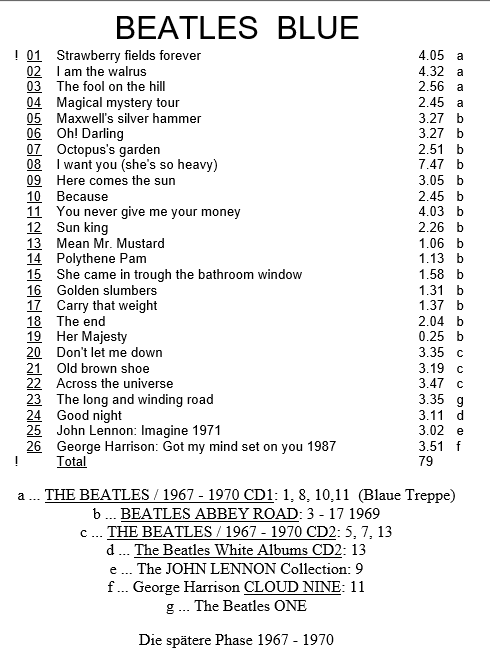 BEATLES WHITE - The White Album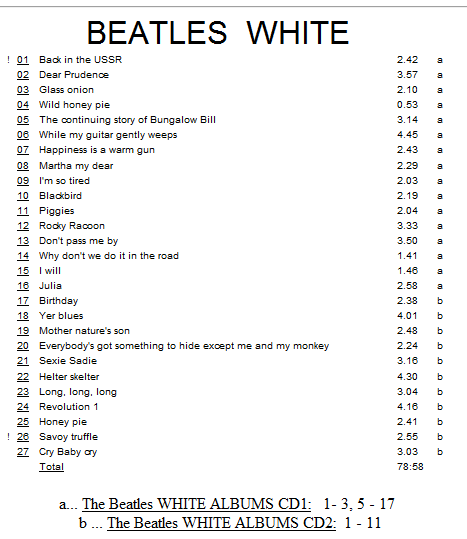 BEATLES GREEN - The Beginning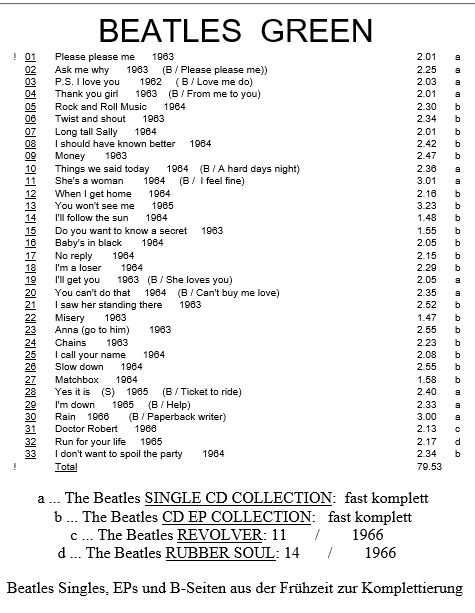 A real new edition of the Beatles music could look like this. Altogether only 6 CDs, with less than 480 minutes (or 8 hours) playing time. And still everything I liked about the Fab Four is on it. Yes "Revolution 9" is missing, intentionally. I always skipped it. And some after the White Album (1968) I also ignored.
Why the CD format?
I of course realize that the time of CDs is over. Even the people who sold them to me have died in the meantime. I myself have almost reached the average age of men by now. And so probably also all other Beatles fans. In the radio stations I listen to, Beatles titles are rarely played. The Beatles time is probably also over by now (in 2018).
I can't check it out, but I'm pretty sure most of their tracks are in the big streaming services. But their playlists are too flexible. It was a characteristic of the Beatles LPs that they didn't just consist of individual tracks, but that the tracks merged seamlessly and then the order was extremely important. They were one piece. And the covers were true works of art. But they will surely be lost. What will hopefully remain forever are the notes of the Northern Songs by John Lennon and Paul McCartney.
Summary
The Beatles phenomenon will unfortunately continue to be squeezed out commercially. The countless remasters just only get louder most of the time. It would simply be a pity if this continues to happen!
Wouldn't it be much better to create a Final Package of their music (The Beatles Final Edition) that everyone can afford, that one likes to play again and again and to enjoy their complex arrangements, the artistic playing of the instruments and to listen to the refreshing, at first cheerful, later thoughtful messages and their typical singing? It was worth a try on my part, I think.
Otto Buchegger